Last night I finally made some headway on my short story. I'm quite determined to finish in time to enter it in the A Writer's Path contest. It's an idea I've been playing with for a long time, but I haven't been able to flesh it out enough for a full-length novel. Turning it into a short story seemed like the perfect idea. But as I was brushing my teeth this morning, something strange happened in my mirror.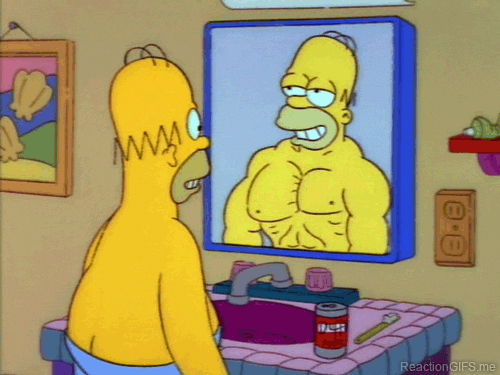 Where there should have been no one, there were people standing behind me. Two of them. I could see their reflections in the mirror.
A woman with a long brown curls and a man with short, grey hair.
It was the two main characters from my story.
'What's going on?' the woman asked, a slightly indignant expression on her face. 'I thought we were supposed to be bigger. You gave us a whole notebook. Now what? We're just a short story? We're not exciting enough for you?'
'Yeah,' the man said, 'what's that about?'
It was utterly bizarre and for a moment I wondered whether someone had snuck into the bathroom during then night and spiked my toothpaste, but they just would not go away.
'All right, calm down,' I said, 'or your hair will go even more grey.
'Oh very funny,' he replied, 'you wrote it grey. You said I went grey in my twenties. Care to change that?'
'Let's make a deal,' I said. 'We'll start with the short story and if there seems to be potential for a lot more, we can revisit the novel idea. Okay?'
I think they nodded. At least they faded away and let me shower in peace.
That's what being a writer is about. Letting your mind create people and stories so compelling that you have no choice but to write them down. Wanting to write a world so real you can taste it. Giving in to those characters glamouring at the edge of your mind. It's what keeps us coming back, rejection after rejection, to sit hunched over our keyboards long into the night. These last few months I've felt more like a writer than I have for years. I've stopped asking myself whether I really do want to do this, and thrown all my energy at it.
Those two characters started out as stick figures in my imagination and now I can see their reflections in the mirror. They're flesh and bone, real people with real stories. I'm either going slightly nuts and should consider getting help, or I'm experiencing some kind of creative high.
I really hope it's the latter.