I'm happy to report that I have done nothing today. It's Constitution Day in Denmark and suddenly this seems to have become a semi-national holiday. There's a lot to be said for a day off mid-week. By seven o'clock this morning I was on my balcony with my latte and by eight I was ready to send my manuscript off to my beta-readers. I've lost count of what draft I'm on, but I think it's about seventh.
I find myself rather reluctant to send it off to them, but I know I'm at the point where I need a fresh pair of eyes. Someone else needs to get me to the next stage. I wonder if they will see the same flaws I do, the same things that need tightening, tweaking. Maybe they will love those bits but have other areas they want to improve.
By eight I was reading and chasing the sun around the balcony. I did that for the next four hours. Then there was a little walk to get ice cream, a little snooze in the sun and then a lot more reading.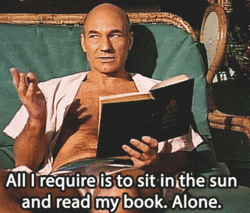 It's the best day I've had for a long time.
I find sometimes when I struggling to find myself as a writer, I have to take a break and dive into someone else's books for a while. It's a reminder of why I want to do this, why I love writing so much. One day I want to be the writer someone spends a sunny day off on their balcony with.
So when I checked my Amazon stats and found out I was that writer, it made a perfect day even better.
What kind of writer do you want to be?